International Consulting
Our engineering and consulting team advises other companies, multilateral organisations and public bodies on energy project management.
Our team's great experience in the sector means we:
Can advise on "cutting edge" renewable energy and energy efficiency resources
Are always updating our knowledge of the latest innovations in design and technology
Provide more efficient and sustainable solutions at environmental, social and economic levels
Build our capacity to ensure the sustainability of long-term systems and projects
Undertake small and large-scale feasibility projects
Work with multilateral organizations and public institutions to promote fair and sustainable energy policies
Can provide rural electrification strategies and socio-economic and environmental impact analyses.
We ensure our engineering team is involved in the entire life cycle of decentralized power generation and energy service infrastructure.
We assist in the design, construction (project management and installation of the solar park), testing and commissioning, operation, maintenance, monitoring, evaluation and end-user training.
We are an independent consulting company with no ties to suppliers.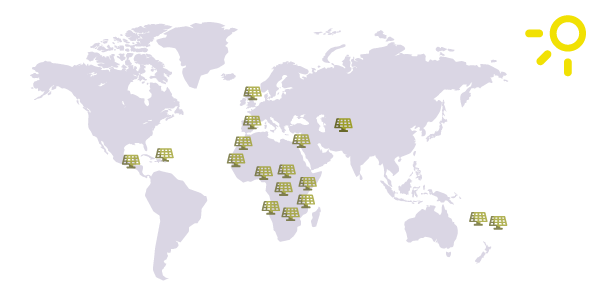 Our experience in developing projects in different countries gives our company a broad and comprehensive knowledge of the situation and a deep understanding and awareness of the interrelated challenges of access to energy.
Working alongside authorities, agencies and civil society, as well as the private sector, we fully understand the access, regulation and demand for energy, and also the involvement of the private sector and its role in the energy sector, especially in the photovoltaic sector.
We have developed energy-related projects in over 20 countries on 5 continents, including: Spain, United Kingdom, Morocco, Mozambique, Burundi, Angola, Gambia, Mali, Côte d'Ivoire, Burkina Faso, Chad, Sierra Leone, Liberia, Nigeria. Colombia, Dominican Republic, Fiji, Tonga, Nicaragua, Jordan, West Bank and Afghanistan.