We are specialists in solar energy systems.
+ self-sufficiency + sustainability + savings
Since 2009, we have been implementing renewable energy projects around the worldto drive the transition towards a fairer, more democratic and sustainable energy model.
We are specialists in solar energy systems.
+ resources + savings + sustainability
AZIMUT WORLD
We support companies in the international arena by providing photovoltaic solar energy solutions encompassing generation, distribution and consumption management.
We dimension systems, formulate proposals and execute projects in the field.
We guarantee the sustainability of long-term projects by training users and local maintenance companies.
We enable energy model change in industry and the tertiary sector, and we also develop cooperation and development projects to guarantee access to renewable energy in areas where electrification is still rudimentary.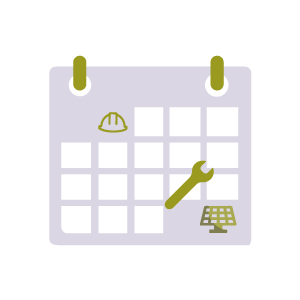 Maintenance and After-sales
Get the most out of your installation.
Adapted to your budget!
Select your PACK!
Azimut360, SCCL
A non-profit cooperative committed to energy transition and the design of new energy models as fundamental tools for social and ecological transformation. We work with over 20 local and international organizations; we accompany organizations, companies, communities, and institutions wishing to meet the challenges currently posed by energ , in a cleaner, fairer and more democratic way.
Read more